ADU Dinner & DVD Night
Friday Dec 13, 2013
"2013 USDF National Dressage Championships"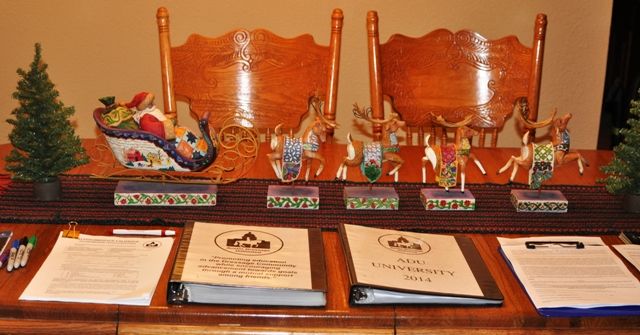 The Friday Dec 13 ADU Dinner & DVD Night turned out to be a cold, wet, dark, foggy night. But when attendees walked into host Cean & Steve Embrey's home, they were greeted with the smell of fresh baked bread & a cozy fire in the woodburning stove. Spiral cut ham, rotisserie chicken, turkey, scalloped potatoes, salads, and desserts were a potluck feast that warmed everyone up in a hurry. Lisa Tannehill "r" and Carol Schmickrath "L Grad" were moderators for viewing video of the 2013 USDF National Dressage Championships.

Focus was on 2nd Level & Grand Prix, discussing the meaning of the Training Scale, and the purpose & directives of the tests as a rider advances up the levels. As we watched each of the competition rides, we learned the scores given for each movement by each of the 3 judges. We discussed the scores given and how the judges derived each score from the angle they were viewing the horse/rider from (C, E, or B). It was enlightening to hear how many things about the ride a judge must quickly evaluate to come up with a single score for each and every movement. There were many great questions from attendees, with thorough explanations from Lisa & Carol. "Fun, interesting, & informative!" To see photos of this DVD Night, CLICK HERE.



ADU Fall Festival Educational Show
Oct 5th, 2013 at Concordia Dressage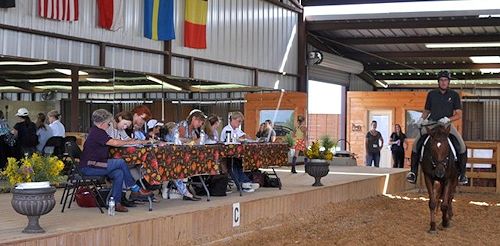 On Saturday, October 5th, Austin Dressage Unlimited held their Fall Festival Educational Show at beautiful Concordia Dressage. Cooler temperatures and bright decorations welcomed participants to a casual and enjoyable environment for learning. As participants soon learned, this was not a "typical schooling show"! Instead, the educational show format provides a unique educational opportunity for all involved. Four judges/LGrads, including Donna Meyer, Ashley Hammill, Marilyn Kulifay, and Carol Schmickrath, led a review and discussion session with each rider, typically following their ride, but in some cases during a ride, to assist in pointing out specific movements and offer advice. The unique nature of this event promotes learning by offering an open and friendly discussion forum of USDF testing standards, and through helpful communication to each rider of recommendations for ride improvement.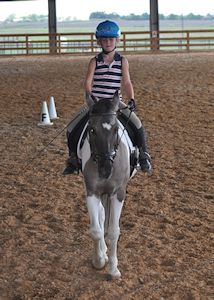 Eight rider and horse pairs provided beautiful demonstration rides up through the levels of dressage, including the gracious hosts of Jenna Stern and Martin Arnold. Each rider was provided 30 minutes to ride a test, followed by judge feedback, and even time to school specific movements as needed. The star of the show was the young rider of the day, seven year old Kasey Denny, who rode her very first dressage test on her wonderful pony Cappuccino! Her performance had all involved cheering for her success.

Overall, the educational show provided participants an inside view of the thoughts and logic of four different dressage judges. This provided all involved a more insightful view of how judges view a performance, and thus where time and energy can be spent at schooling dressage for riders and horses alike. An event like this is only possible through generous donations. Thank you to Concordia Dressage, our outstanding judges, the hardworking scribes, and all of the volunteers for their kind donation of time and effort to put on ADU Fall Educational Show! Photos of this Fall Festival Educational Show may be seen HERE

Show Nerves! & How to Conquer Them
ADU Dinner & DVD Night
Aug 25, 2013 hosted by Marcia Keunast
Post-Review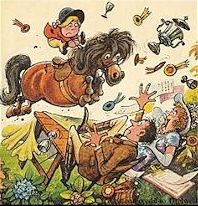 Altho it was unplanned, the potluck meal turned out to be all vegetarian, and all dishes quite delicious! Quiche, alfredo pasta with artichoke hearts, lettuce & veggie salad with feta cheese, fresh fruit salad, breads. And don't forget the desserts: chocolate dipped strawberries, eclairs, vanilla pudding with blueberries & strawberries, various cookies. But our eyes were bigger than our stomachs and we had to quit eating and plop on the couch and chairs to watch the educational videos.

Jane Savoie's "Freedom from Fear" program is actually comprised of many DVDs and audio CDs. We chose a couple to watch this evening. The first focused on using reward and praise to teach your horse to respond to your aids reliably. You will decrease your anxiety if you feel you have control of your horse, and that your horse will respond predictably, doing what you ask when you ask. In the example on this DVD, Jane demonstrated the use of clicker training to help clearly teach your horse what is the correct response to what you are asking. Altho most of us have heard of the clicker training method, many of us had never seen it in action. It was interesting to see how it enabled you to get into the mind of the horse to help him understand what it is that you want him to do.

The next DVD started with explaining the "law of attraction." Energy is attracted to like energy. So the more positive energy you give out, the more that will come back to you. Get rid of negative thoughts, words, and people, which only result in negative outcomes. Attitude and outlook are everything. The power of positive thinking is a powerful tool you can use to calm yourself and gain confidence in you and your horse's abilities.

We next watched an interesting demonstration given by Jane at a horse festival. Three members of the audience who had strong fear related issues with their riding, came forward to practice a Chinese based method of calming themselves. This was through simple physical exercises performed to maintain their body's "meridians." Meridians are electormagnetic energy pathways that flow throughout your body, affecting every organ as well as your emotions. While applying repeated pressures to specific locations on their bodies, while saying positive statements to themselves, the audience volunteers were able to significantly reduce and control their anxiety levels fairly rapidly.

Each attendee had been given take-home copies of 5 published articles on how to reduce, avoid, and control show nerves. These articles came from various riding disciplines including dressage, jumper, and western riding. No matter the style of riding and competing we do, we all deal with the same issues of nervousness and fear. A few of the key suggestions were; Making sure you are well schooled and well prepared ahead of show day. Eat and sleep well. Have a detailed plan for show day, with designated times for every step of the way. In the days before, and repeatedly during the competition days, use visualization, in extreme detail, to go over in your mind what your competition ride is going to be like. When the competition ride comes, FOCUS, give your full concentration to your horse and yourself, your preparation for each movement, your correct aids. Your mind can only think of 1 thing at a time, so if you give your full attention to your ride, there will be no opportunity for other thoughts or concerns to bother you.

Photos from this Show Nerves DVD Night may be seen HERE.

An evening with Christian Bachinger
Spanish Riding School of Vienna
ADU Workshop – USDF University approved
July 13, 2013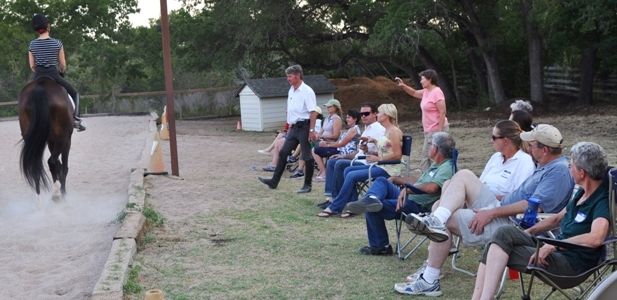 Christian Bachinger is a 3rd generation Bereiter of this famous riding school in Vienna. He came to the Austin area to share his knowledge and training methods, hosted by Reiterhof. Special arrangements were made for the evening of July 13 to be a USDF-University approved program co-hosted by Austin Dressage Unlimited, as well as a potluck dinner for all attendees. 25-30 people were present for this enjoyable evening. To see photos of this Bachinger workshop please click HERE.

The evening's focus was how the Spanish Riding School raises & begins the under saddle training of their young horses. Herr Bachinger emphasized that there is no set expectations for any particular age. Each horse is an individual, and must be trained according to their mental and/or physical development age, not their chronological age. They progress by their own individual clock, not man's expectations.

- Training begins as a yearling, simply wearing a surcingle & lunging cavesson. The point only being to get the youngster used to being handled calmly & quietly by the trainer, responding to simple basic commands. No fear, no tension, no stress. Keep them happy & willing to work with the trainer.

- A 2 yr old demonstrated the next stage of knowledge with walk, trot, & canter on the lunge line, eventually with saddle & bridle on, but lunge line still attached to the lunging cavesson. Loose side reins may eventually be added as the young horse accepts them without stress. Simple commands, still always emphasizing relaxation, promoting steady rhythm & obedience, but without punishment or fear.

- Next the 4 yr old was ridden under saddle, learning the basics of simple walk, trot, canter in regular forward rhythm, starting the first 3 levels of the classic training pyramid. Smooth relaxed unrushed transitions between gaits is also emphasized. Even the special horses should not be pushed too fast.

- Finally a "giant" of a 5 yr old horse was brought out. This 18.2 gangly awkward gelding was obviously not physically or mentally ready for serious training yet. He was far less advanced than the 4 yr old, and possibly even less than the nice 2 yr old that we had seen earlier working. But this was one of the main points of this training workshop. Each horse is an individual and must be treated as such. In this way, each horse can reach their full potential of becoming a happy relaxed cooperative dressage partner with the rider.



A Trifecta Dressage Educational Event
The ADU Educational Practice Show

On Sunday June 9, Austin Dressage Unlimited organized an educational event that gave a unique learning opportunity to 3 different types of participants. 30-35 people in all attended this day of the ADU Educational Practice Show, held at Dinah Babcock's beautiful hill country ranch. They came from as far away as Dallas and Houston to attend.

The Judge/LGrad group that led the analysis & discussions of the rides was composed of Dinah Babcock, Lisa Tannehill, Carol Schmickrath, Nancy Fair, Amy Talley, & Lori Snider. The event was a benefit to them because of the open, friendly, verbal interactions that allowed them each to compare how & why they were scoring movements performed the way they were. USDF"s goal is for judging to be as standardized as possible. This ADU event was a unique opportunity that enabled them to see how their reasoning & scores compared with other judges. "It was great that there was such friendly discussion. Other judging get-together events I've been to, the participants were not so friendly in comparing their thoughts & judging methodologies. We need more events like this."

The group of Riders benefited from the vast knowledge & advice of the panel of 6 judges/Lgrads. Both in the verbal analysis & discussions before & after their ride, and with the 6 score sheets they received that detailed the good & not so good of each movement performed during their test pattern.. "I felt like the "L" graduates & the judges that attended did a very good job of assessing and scoring my ride." The event being non-competitive also kept the atmosphere supportive, low stress, & avoided show nerves.

The group of auditors - including the scribes, & including the riders - benefited from hearing the well thought out comments from each of the judges/Lgrads. Hearing the interaction between them as to the hows and whys of the scores they gave, was very enlightening. It made it easier to understand how the judges look at a performance, giving us an idea of their reasoning, & finally, how they come up with a numbered score. "Hearing the judges describe & discuss in detail their methodology for coming up with scores was one of the best dressage educational events I've ever been to."



Photos of the June 9 ADU Educational Practice Show may be seen on the website at www.austindressageunlimited.org/photos2013.html
Keep watch of the ADU Calendar for more great ADU Dressage Educational events throughout the year.
Hope to see you there!

Learn to Scribe & Score ADU Workshop held Saturday May 4, 2013 Approved for USDF-University credit # 102253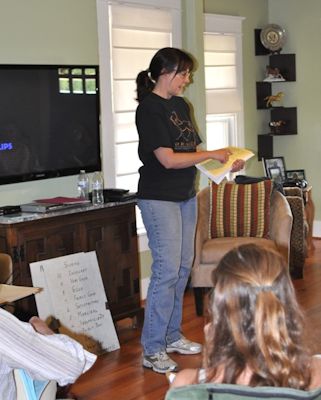 A lot of new faces, including guests from Boerne to Waco, attended the ADU Learn to Scribe & Score Workshop on Saturday May 4. Topics covered were not just how to accurately write small & fast using abbreviations, but also how to keep the paperwork organized, and other duties before, during, & after the scribing session. Proper etiquette, do's & don'ts, and insights with helpful hints personally given by both local & national judges we contacted. 3 L Graduates (Nancy Fair, Lori Snider, & Carol Schmickrath) judged videotaped USDF On the Levels test rides while eager students of this scribe-school practiced their skills keeping up with recording the scores & comments. The scribe training culminated with going outdoors to do "the real thing." Lorraine Britton rode a 1st level test on her gelding "Raj," purposely making common errors for scribe students to have to deal with. She also rode a 4th level test, giving the scribe students practice at a test where movements come up fast, including many transition scores. It kept them on their toes!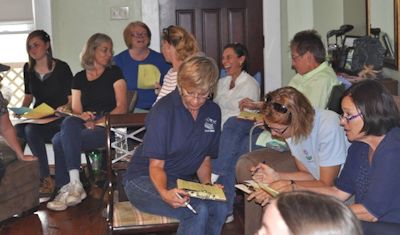 The 2nd part of this Workshop was learning to Score the test sheets with Karen Holmes. Again, this job entails more than just math & a final % calculation. It also includes such things as reviewing the test sheet for validity, making sure it is signed by the judge, any score changes are initialed, and errors properly recorded. Karen had clever sample test copies for everyone to practice what they'd learned about being a Scorer. Prizes were awarded for those who completed the "final test" quickest without any errors or omissions.

ADU has already received requests from dressage show organizers to refer students of this Workshop to them for Scribe and Scoring jobs at upcoming events. Students can now take what they've learned & practiced, and put it to good use sitting in the best seat in the house - next to the judge as the essential Scribe! or to the spot where competitors hang out anxiously awaiting - outside the Scorer's office - to see what scores their rides have earned.

Post-evaluations received for this workshop unanimously gave 5's in all categories with comments: "Great workshop" "Very educational, Thanks!" "Let's do it again!!" "I learned a lot!!"


Photos from this Learn to Scribe & Score Workshop may be seen HERE
"We even taught the horse how to Scribe!"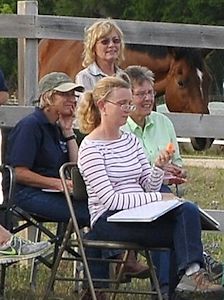 November 10, 2012
"A Night of the Arts: Classical Dressage & Guitar"
ADU Year End Celebration

Live classical music by "Classical Guitars Alive"
Tony Morris, guitar, & James Fenner, percussion

Live Musical Freestyle demonstrations by:
Deidre Dressage & her beautiful Spanish horses
Bach & Beethoven (Cean Embrey & Carol Schmickrath) riding an FEI pas de deux

Click here for a collage of party photos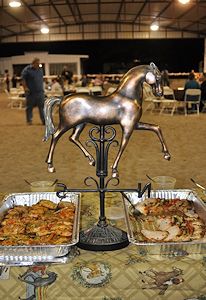 "Classical Guitars Alive" provided our musical entertainment. Tony Morris, guitar, & James Fenner, percussion have performed a concert at the Texas Governor's Mansion, & performed 3 times at the White House (2002, 2004, 2005). Grammy winning James Fenner toured the world with singer Christopher Cross, & has performed with Aretha Franklin & many others. ADU was greatly honored to have these 2 talented performers.

While enjoying the classical music, attendees partook of a delicious meal provided by Catering by Chef Alvarro. Throughout the evening, bargain bidding was fierce for many of the over 100 Silent Auction items, & the live auction, including barn slaves!

ADU members were honored for their individual dressage achievements including those who've earned their USDF Bronze, Silver, or Gold medals, & those earning USDF-University educational certificates. The highlight of the member recognitions was the ADU-University graduation where 10 members were honored for completing the requirements of this rigorous dressage education & training program.

It was a wonderful evening of exceptional music, good food, enjoyable demos, great shopping, & a chance to share an evening with dressage friends old and new.