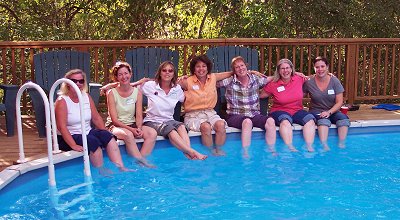 Thinking Outside the Box
(Outside the Arena, that is)
Sitting in a cool air conditioned room with a room full of friends and a full belly, watching world class horse competitions and training. What could be better?
Sometimes you just have to think outside the box. Outside the arena, that is. Granted, there is no substitute for getting out there consistently in the heat and humidity of our summers, or the cold wet winters, and training with your horse. But there are some non-riding things that you can do as well, that will help you advance your knowledge and skills in the riding discipline of your choice.
Austin Dressage Unlimited has successfully set up a series of regular "ADU Dinner & DVD Nights" for our members and guests. This very popular program is both a social event for members to get to know each other, and an educational event to learn the training methods of the best trainers and instructors in the world.
An ADU member offers to host the Dinner & DVD Night in their home and provides the tasty main course of the meal. Previous meals have featured smoked brisket, pasta, BBQ ribs, and homemade deep dish pizza. There is always a vegetarian dish offered as well. Each attendee then brings a side dish or drink to contribute to the pot luck dinner. No one goes away hungry. Most people practically have to be rolled out they are so stuffed with tasty food by the end of the meal! This is a great chance for attendees to socialize, network, and enjoy each other's company. Any club business, activities, or announcements can also be made briefly to the captive audience. And some lucky attendees go home with one of several door prizes given.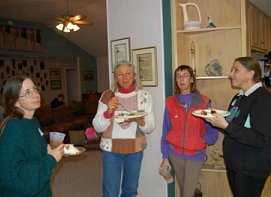 ADU's "Education Committee" provides the training videotapes to be shown at each of the DVD Nights. They plan a series of tapes to be shown over several month's time that will organize a path of learning for attendees in a logical manner. For our dressage discipline, the series began by showing a DVD of the most recent Olympic dressage competition. Attendees were able to see the best horses and riders in the world perform, and really see what the highest levels of dressage should look like. These kind of performances and execution of the movements are our ultimate goal.
But how do we get there from here? Maybe our horse can barely walk, trot, and canter. That is where the subsequent training DVDs come in, starting at the beginning of training the young horse, to eventually progressing up to the highest levels of dressage. The month after the Olympic tape, the DVD was shown called "Schooling a Horse - Basic Training in the First Year." The next month was "Lateral Work as a Key to Success" which showed the training of exercises such as shoulder in and half pass. Building on that, the following month covered the training of some mid-level skills, counter canter, flying changes, and canter pirouettes. Next was achieving collection, and training the very high level piaffe and passage movements of dressage. The last video of the 2009 season was "If Horses Could Talk," a video which clearly shows in 3-D animation, as well as live examples, the physiological results of both good and bad riding and training of the horse.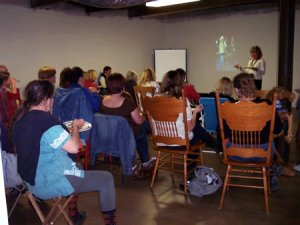 These educational nights are not meant to just be sitting and watching the DVDs tho. The videotapes are paused and rewound frequently. Questions are strongly encouraged, and thorough explanations are given by the ADU moderator, who is an FEI dressage rider, USDF Medalist, and/or a USDF L Program graduate. Rider position and aids are demonstrated by members of the audience. Lively discussions often occur. Most attendees go home with a better understanding of the dressage movements and the training of the horse and the rider. And they go home inspired to improve their own riding and advance the training of their horse. Riders of all levels, beginners to FEI riders, including amateurs, professionals, and junior riders are taking advantage of these fun and very educational ADU Dinner & DVD Nights.
Eat hearty, then watch, analyze, discuss, and learn. And all of this is done in the comfort of someone's home – outside the box.