Complementary Methodologies

Have you ever heard someone say they're doing a technique for themselves or their horse and you wondered, "What is THAT?" Well, now, in the company of friends, many central Texas equestrians are getting the chance to find out about some of these different complementary methodologies. Austin Dressage Unlimited has implemented a series of "Bodywork Workshops" with the purpose of introducing several different complementary methodologies at a time to ADU members and friends.
These methodologies for riders and horses are things that can fill in the missing pieces or add to a basic, traditional, classical training program. They can improve the athletic partnership between the rider and horse, complementing the training system that is already in place. Some of these methodologies address just one aspect of the total picture, while some are comprehensive, encompassing the horse, the rider, and the training system.
The first in ADU's series of Bodywork Workshops was held Aug 2, 2009 at Lucas & Liebe Stables near Dripping Springs. Attendees spent a few hours of the evening sitting under the shade of a beautiful large oak tree at Kay Skillern's farm. They enjoyed drinks and snacks while they learned, and experienced for themselves, what a few of these methods were all about. Bodywork Workshop I included:
Balimo Program (Balance in Motion) by Vera Muckleroy
TTEAM (Tellington Touch Training) by Penny Stone
Equine Massage by Lorre Mueller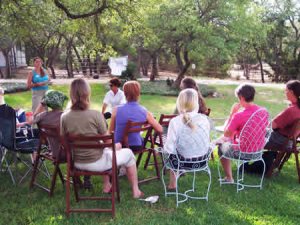 The second in ADU's series of Bodywork Workshops was held in the morning hours of Aug 9, 2009 at County Line Equestrian Center near Hutto. Attendees were the first to enjoy the use of the newly renovated "clinic house" at Judy Gibney's farm. One session was performed on a demo horse outside under the covered arena. The other two sessions were held indoors in the air conditioning, and in close proximity to the delicious brunch munchies that attendees brought. Bodywork Workshop II included:
Acupuncture by Dr. Emily Crow
Ride Right by Meredith Duggar
Centered Riding by Lynn Larson
As these types of complementary methodologies are becoming more popular in the horse world, more people are interested in learning about what they are and what benefits they have to offer. Therefore, as a service to its members and friends (ADU events are always open to the public), Austin Dressage Unlimited will continue to organize future "Bodywork Workshops" with the purpose of introducing various complementary methodologies at a time to educate and inform area horse enthusiasts.