Welcome to Austin Dressage Unlimited, the newly created dressage organization based in Austin, Texas. We are a Group Member Organization (GMO) of the United States Dressage Federation (USDF) in Region 9. But ADU is not intended to be localized just in the Central Texas area. We welcome dressage enthusiasts from anywhere and everywhere to join in this uniquely organized dressage club.



So, what is so unique about ADU?
A good place to begin is our mission statement:

"To promote education in the dressage community
while encouraging advancement towards goals
through a mutual support among friends."

Read More Here...
Demo Rider/Horse Teams Needed
for the
9th Annual ADU Judging Seminar featuring Stephen Clarke
October 27-28, 2018 Dripping Springs, TX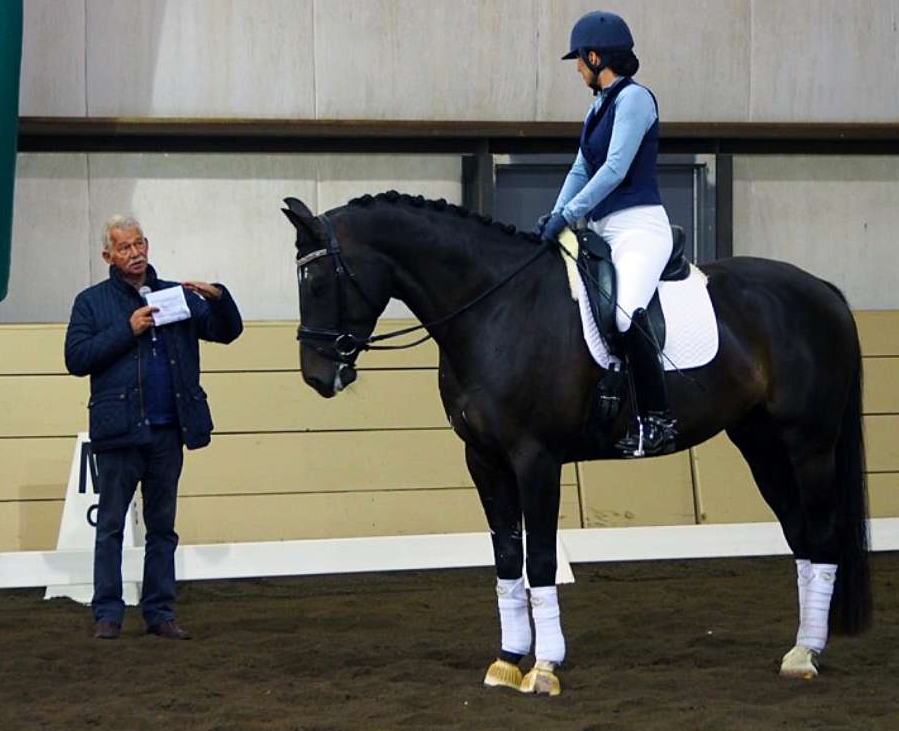 Austin Dressage Unlimited (ADU) is NOW ACCEPTING Demo Rider/Horse Team applications for the October 27-28, 2018 USDF approved live Judging Seminar with Stephen Clarke at Dripping Springs Ranch Park. We plan to choose 2 horses for each level of Dressage. Preferably one will be a Warmblood breed, and the other a non-Warmblood breed, both demonstrating very good training and performance abilities. Riders must be competent and experienced with the horse they are applying to ride.


Deadline for submission is completed application, video, and payment RECEIVED by August 1, 2018.

Demonstration Rider/Horse Team INFORMATION
Demonstration Rider/Horse APPLICATION FORM

Click on Image Below to Open PDF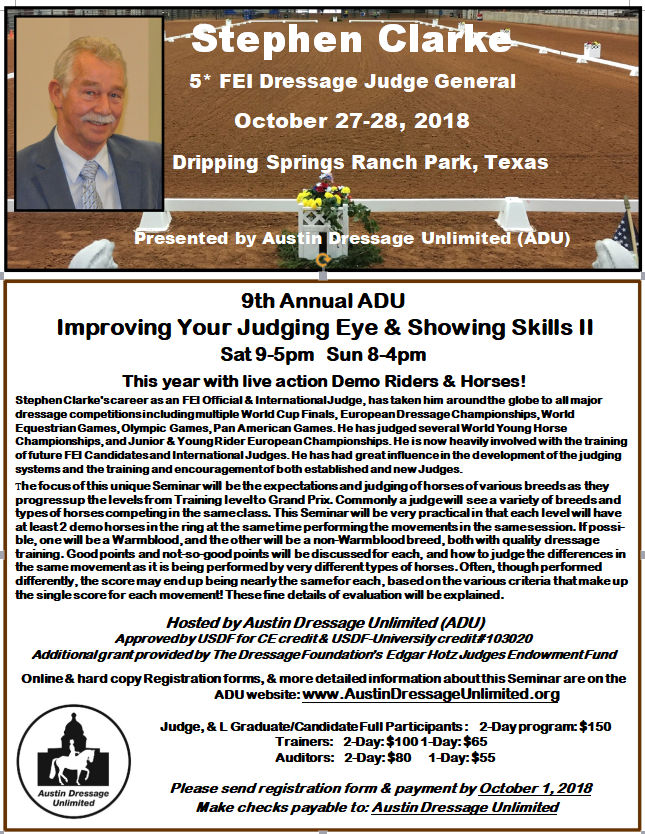 See files below for more detailed information and registration:

Hard Copy Registration Form
Online Registration Form
More Seminar Information, Schedule, Map
Lodging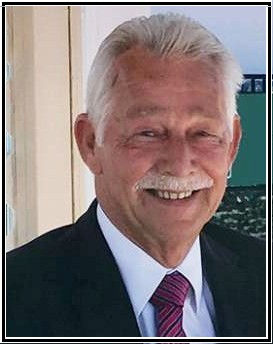 Stephen Clarke
will be staying in town 1 extra day
after the Judging Seminar for:
ADU Dressage Clinic with Stephen Clarke
Monday October 29, 2018
Dripping Springs Ranch Park
1042 Event Center Dr.
Dripping Springs, TX 78620


This clinic will be offering the opportunity for 8 private 40 minute Dressage Lessons with FEI Dressage Judge General Stephen Clarke.
Priority for clinic rides will be given to active ADU members.



Application deadline is received by September 1, 2018
Monday Clinic Application Form

Looking for some gift ideas for your horsey friends?
How about the gift of dressage education for your friends?

A 2018 membership in Austin Dressage Unlimited - give them a year full of regular high quality Dressage educational events.
"Promoting education in the dressage community while encouraging advancement towards goals through a mutual support among friends."
Registration for ADU University a season long program of dedicated Dressage education and training, supported by a volunteer mentor. "Graduates" honored at the ADU Year End Celebration party.

How about other unique horse related gifts?

An Equestrian Cookbook - Chef d' Equipe, a collection of recipes for humans and horses, with gorgeous equine photography.
Horse related items and services from our many businesses and individuals who regularly support dressage education in the central Texas community. We have an extensive list on our Links page.